Admissions 2021-22
To apply to the B.Voc. programmes, please download and apply with the Under Graduate Programme (Aided Section) application form available on the college website.
For more information on B. Voc. programmes, please contact:
1. Apparel Made-Ups and Home Furnishing : A. Shakila - Phone: 9443592337
2. Food Processing :Dr.M.V.Alli- Phone: 9443087717
3. Electronics Circuit Designer and Electrician :Dr.K.Seethalakshmi- Phone: 9003328449
---
B.Voc . (Bachelor of Vocation) is an emerging programme in India that aims at providing adequate skills to students required for a particular trade. The course is different from traditional academic programmes as it deals more with skill based studies apart from theoretical knowledge. One of the biggest advantages of B.Voc. is that a candidate has multiple entry and exit points during the programme and will have continued industrial exposure which increases her chance of employability.
B.Voc. programme is of three years duration divided into six semesters. The flow of the programme is as shown below.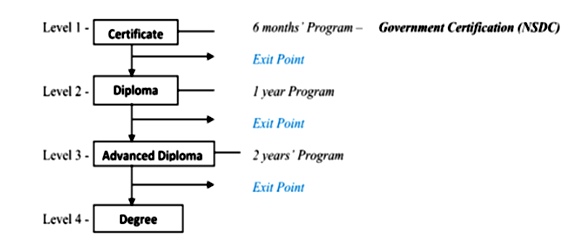 The curriculum of B.Voc. is industry based which contains both General Education and Skill Development components. Apart from studying the regular curriculum, all students need to undergo Industrial Training or Project work. B.Voc. programme aims at imparting education that builds specific job skills in students so that they can serve the industries better. After completing a degree in B.Voc. , candidates can start working in their chosen field effectively.
Eligibility Criteria
Minimum eligibility criteria is a pass in 12th school examinations (all streams including vocational stream).
Highlights
Curricula based on National Skill Qualification Framework (NSQF) guidelines
Collaboration with trade specific industry and academia
Training/field work/internship in reputed industries & research centers
Complete practical knowledge for specific job levels
Facilitating job opportunities and promoting entrepreneurship
Seethalakshmi Ramaswami College was awarded the following B.Voc. Programmes by UGC in 2018 under NSDC
Horticultural Science
Apparel Made-Ups and Home Furnishing
Food Processing
Electronics Circuit Designer and Electrician
Beauty & Wellness – Alternate Therapy -Yoga
Nodal Officer
Dr. M.Vasuki
Vice Principal & Self finance incharge,
Associate Professor & Head, Department of Chemistry.